04 May 2015
Indian Traditional Wears which Complements the Beauty of Women
The Traditional Indian clothing takes us close to Indian cultural roots and reminds us of the memorable past. Indian attire is well-known throughout the world, for its ethnic wears; perfectly represent the richness & excitement of the cultural heritage. India is multi states & cultural country.It has a great multiplicity in terms of fabrics, colours, braid and material of clothing. Indian clothing categories the dresses in terms of colour codes, fabrics, etc. due to variations in seasons, geographical locations and religion & ritual concerned.
Have a glance over Indian traditional wears
Saree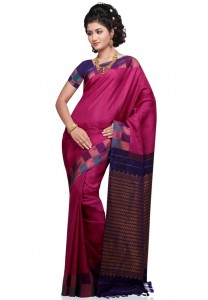 The only first thing that strikes the mind when thinks of Indian traditional attire is the women clad in "Saree". It is one of the phenomenal dresses worn by Indian women.
A saree has been ever since ages the best attire to represent Indian culture & tradition, symbolizing Indian customs throughout the globe.
A saree is a long cloth of designs and prints which is draped around the lower portion of woman's body with pleats and worn like skirt. A choli or blouse is worn on top & the portion left after draping is called Pallav. A women's wardrobe is incomplete without one saree from each region.
Salwar Kameez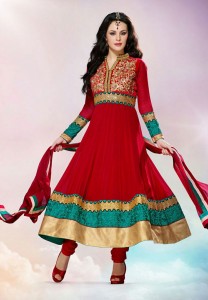 The Salwar Kameez is one of the famous and traditional dresses of India. This attire specially speaks about beautiful and elegant look of North Indians. Salwar Kameez is the most comfortable & authentic wear for women since many decades. There are many varieties of salwar kameez such as traditional, churidar, anarkali, Patiala, parallel salwar kameez etc.
It can be worn in all occasions like social gatherings, parties, weddings and cultural functions. It is feasible in various sizes, colours, styles, etc. Salwar Kameez is a set of tunic top known as Kameez, a pair of trousers called Salwar and a stole called Duppatta or Odhni. These three pieces can me designed in various ways to make a graceful and stylish outfit.
Chaniya Choli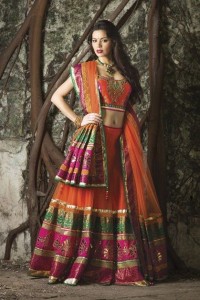 Chaniya Choli is also known as Ghagra Choli or Lehenga, is the traditional clothing for women in Rajasthan, Gujarat. Chaniya Choli is the favorite garment for girls during the festive seasons. The skirt is known as Chaniya & the blouse is called as Choli and the Duppatta. The bright colours, beautiful embroidery & mirror work designs add glamour to the festive wear of Chaniya Choli.
The mirror work on the body of garment reflects light and therefore gives a shimmering effect which no other outfit can give. Chaniya Choli is often worn in festivals like Navratri, for garba & dandiya dance parties and also can be seen in formal ceremonies & regular wear too. The craze of Chaniya Choli has been spread all over India.
The colourful and diversified attire of the Indians is one of the persuasive attractions to the foreign travelers or the tourists of India. The silk Saree, the traditional Salwar Kameez & the colourful and brightly mirrored Cholis and Lehengas have fascinated many travelers all over the world.