15 May 2015
Mirror of Indian Conventional Men's Wear
Everybody is familiar with the exquisite variety in women's Indian fashion wear but the Indian fashion world offers amazing options for men as well. Indian men's clothing is comfortable and versatile and there is lot of options for different occasions.
In India there are various styles of dressing for men's with vast options for traditional & ethnic wear like dhotis, sherwani and kurta's. Also there are formal style of clothing consist of shirts, trousers, blazers & ties which are influenced by foreign. Like available variety of dresses for women's, men too can today choose from the size, colour, pattern, material, design etc. of cloth they want to wear.
Here are some traditional men wear
Kurta
Kurta- Pajama is one of the crucial set of clothing in traditional Indian fashion. Initially kurtas were only clothes which used to wear but over a period of time western wear has come to fashion and the kurtas for men have become occasional attire.
It is a loose shirt falling either just above or somewhere below the knees of the wearer. Men have a wider collection of kurtas such as long and short kurtas to choose according to their physique, style & interest.
Long kurtas give a cultured look & become best choice for wedding celebrations. Some of the choices of Kurtas for men includes: stylish kurta, kurta pajama, attractive art silk kurtas, Hand work kurtas, Brocade kurta pajama, designer kurtas, Khadi kurta, casual kurta, and Ethnic kurta & Chikan kurta.
Lungi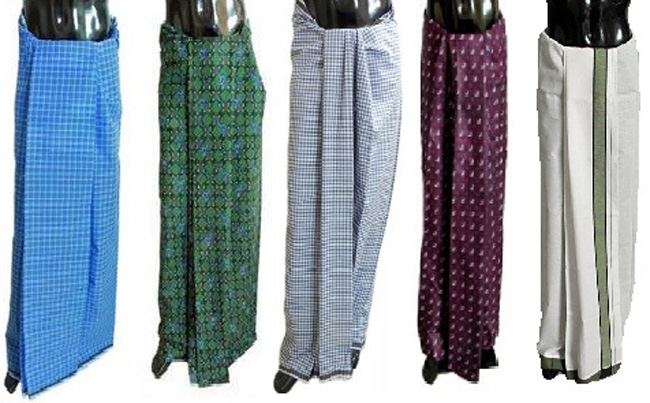 The traditional lungi is oriented in South India. Besides India, Lungis are popular in various communities across Asia, such as Bangladesh, Sri Lanka and Pakistan. It is simply a short length or long length of material worn around the thighs rather like a sarong. Lungis are available in most common patterns such as plain, checks and stripes. In Punjab Lungi is also called a tehmat, which is draped in a manner where the pleats fall in the front. Punjabi men wear this with long kurta & embroidered jacket and with a colourful Pagdi.
Dhoti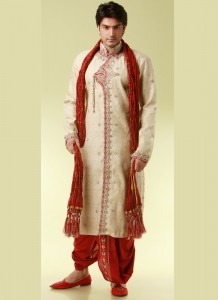 Dhoti remains the most traditional costume of the India. It is a long rectangular piece of unstitched cloth, which is wrapped around the waist & between the legs.
It is available in cream and off white shades, both in cotton & silk fabrics. But today the classic combination of Dhoti-Sherwani or Dhoti-Kurta has been adapted by many designers & can be worn for a variety of formal occasions.
Dhoti can be worn in a variety of ways & have different names according to the style. For instance, it is called pancha in Telugu, dhuti in Bengali, dhotar in Maharashtra, etc.
Sherwani
Sherwani is originated from the central Asia. It is mostly worn in the traditional functions, as it gives traditional look to Indian man.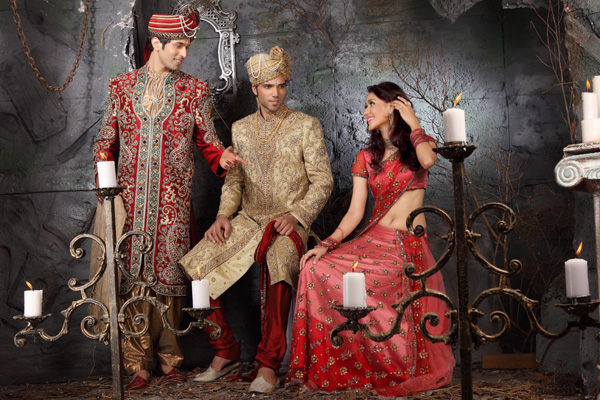 This is attire which attract to everyone with your ethnic charm. A Sherwani worn by men, fitted close to body, is a long length coat, usually knee height that resembles a lot like traditional Achkan in styling having a Nehru collar & typically has button up to the collar.It is paired with breeches churidar. Sherwani comes in silk fabric with hand embroidery and is been designed to match with the Lehenga. Turbans, stoles and mojaries or juttis are worn along with sherwani. Sherwani is accessible in many colour shades like off-white, beige and cream shades, etc.
Indian clothing is tended to become a religious, cultural and tribal identity. Wearing traditional outfit in today's era is like exploring the Indian heritage culture & simultaneously is gives a glamour's traditional look.