17 Jul 2014
How to Select Best Indian Wedding Saree?
Getting married soon, but confuse which wedding dress to select? Well Indian wedding saree is a great option. There are several and different types of Indian wedding bridal sarees are available that you can come across. Saree is a custom nine yard fabric which has always been considered auspicious during the wedding ceremonies.
Indian wedding sarees makes a woman look graceful, stylish, elegant and sensuous. So, how to select the best bridal saree? Here are a few important steps that will help you to find the best wedding saree that suits you the best
Select the Right Fabric:-
The first step is to select the good fabric. Fabric of bridal saree can enhance your beauty on the special day. The choice of fabric can make you look slim or bulky.Even though several option like chiffon, georgette, velvet, net or crepe, are available, but silk is always the first choice.
Fabric also determines the comfort level during long ritual hours. Avoid materials like cotton and organza which adds more volume to your body. So if you want to look beauty on the special day, right fabric must be selected.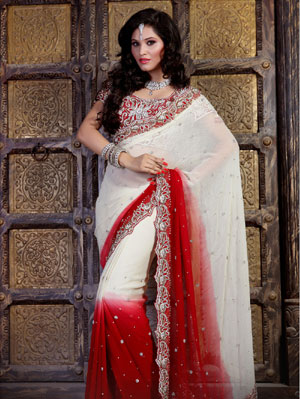 Colours:-
However, Indian brides get a leeway on this aspect of selecting a colour of bridal saree. Despite the fact that pink and red colour are very popular, you can also opt for other colors like maroon, green, magenta, pink, rust, gold, mango and others are also used for Indian bridal wear, which are equally beautiful.
However, the color you choose should go well with your skin complexion. Also, the color should not overshadow your jewelry because they too hold significance.
Design:-
The design of the saree must be nice and simple. The design should not be heavy as it makes the bride uncomfortable (like heavy embroidery, embellishments etc). It helps to look gorgeous but it is not suitable for longer period as these tends to be heavy.
So the design of the wedding sarees must be simple which makes you feel better and comfortable till longer period.
No of sarees:-
Often seen that many brides love to wear more than one saree on there special day.They love to change the sarees according to the events.They change there saree quite a few time. For e.g they change there saree during the time of Pheras and then after for reception. So you should buy the saree which is most appropriate.
After the selection of the sarees you should think about the matching jewelry and accessories. Matching Jewelry and accessories along with the wedding sarees help's to look bride more traditionally and beautiful. If you have not buy weeding sarees with matching blouse, you can opt for a matching blouse or a contract colour.
Backless and deep neck blouses are better to be avoided on your wedding day. You can also consult some tailor for stitching the matching blouse that help you to look great.
Finally, if the budget is only a tad higher that the price of the ready-made piece, you can go for a custom designed saree that fits your grace. However, if your budget does not permit, you can go ahead and buy the saree you selected.